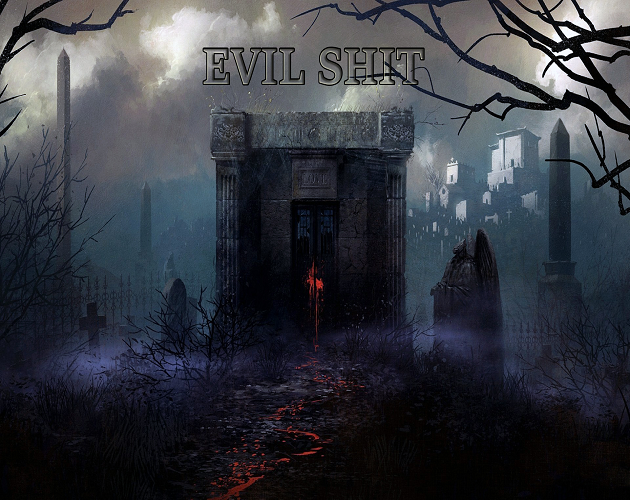 Evil Shit Alpha V1k
A downloadable game for Windows
EVIL SHIT
ANGLAIS :
Evil Shit is a new scary game where you have to survive a terrible nightmare! Do the impossible-find
exit from the house of a mad maniac who wants to see blood and suffering! Cries for help are useless. Children can't survive this! Try to overcome your fear and solve complex puzzles to survive and escape.

You have to hide and be smarter. Proceed very carefully, because this is a deadly hide-and-seek. Remember: the killer is nearby! Who is he? Maybe he's your crazy neighbor!


Your task: to escape from this cursed place at any cost! To win, you will need
strategy, tactics, ingenuity and cunning. Explore and use items. Look for keys or think of other ways to open locked doors.

Discover exciting secrets and secrets. Do everything possible to avoid becoming another victim of a serial killer. Be very careful, don't make any noise! Maniac
will come to you to check if everything is in order. If he sees You, he will punish you fiercely and cruelly.
Silence and order are the key to success. Try to be quiet and cover your tracks to remain unnoticed, otherwise death. This is not an evil grandmother! A psychopath will catch You and kill you.
He's a monster! Nothing will stop him, not even a weapon. This sadist will pursue you until he finds You and drives you into his trap.



★ The opportunity to plunge into a real, dark atmosphere of horror, filled with frightening sounds and
mysterious incidents.
★ Realistic beautiful graphics and best voice acting. We recommend playing with headphones!
★ Exciting and interesting gameplay that will keep you in constant suspense.
★ Exciting storyline about a maniac psychopath, from which You will be terrified.
★ The need to hide and survive.
★ Unique puzzles that make you think a lot and act quickly.
★ The ability to pass the adventure in english and without the Internet.
★ Scarier than ghosts, creatures, demons, virus, zombies, the dead, and even the devil himself.

Do you like to feel animal fear? Do you like it when there's fantasy and magic around, dead souls, screamers, ghosts? Do you love horror movies?
Do you get goosebumps from the tense, terrifying atmosphere? Tired of school, hospital, mental hospital or hospital? Do you like escaping from a prison, dungeon, or maze?
Then this horror game is perfect for You.

The game is available for now only one level out of fhour.
Solo player !
FRANCAIS :
Evil Shit est un nouveau jeu effrayant où vous devez survivre à un terrible cauchemar!
Faites la sortie impossible de la maison d'un fou fou qui veut voir le sang et la souffrance! Les appels à l'aide sont inutiles. Les enfants ne peuvent pas survivre à ça! Essayez de surmonter votre peur et résolvez des énigmes complexes pour survivre et vous échapper.

Vous devez vous cacher et être plus intelligent. Procédez très prudemment, car c'est une cache-cache mortelle. N'oubliez pas: le tueur est à proximité! Qui est-il? C'est peut-être votre voisin fou!

Votre tâche: échapper à tout prix à cet endroit maudit! Pour gagner, vous aurez besoin
stratégie, tactique, ingéniosité et ruse. Explorez et utilisez des objets. Cherchez des clés ou pensez à d'autres façons d'ouvrir les portes verrouillées.
Découvrez des secrets et des secrets passionnants. Faites tout votre possible pour éviter de devenir une autre victime d'un tueur en série. Soyez très prudent, ne faites aucun bruit! Maniac
viendra vous voir pour vérifier si tout est en ordre. S'il vous voit, il vous punira férocement et cruellement.
Le silence et l'ordre sont la clé du succès. Essayez de rester silencieux et de couvrir vos traces pour rester inaperçu, sinon la mort. Ce n'est pas une grand-mère maléfique! Un psychopathe vous attrapera et vous tuera.
C'est un monstre! Rien ne l'arrêtera, pas même une arme. Ce sadique vous poursuivra jusqu'à ce qu'il vous trouve et vous entraîne dans son piège.


Évadez-vous de chez vous dès maintenant:

★ L'opportunité de plonger dans une véritable atmosphère sombre d'horreur, remplie de sons effrayants et d'
incidents mystérieux.
★ beaux graphismes réalistes et meilleur doublage. Nous vous recommandons de jouer avec des écouteurs!
★ Un gameplay passionnant et intéressant qui vous gardera constamment en haleine.
★ histoire passionnante sur un psychopathe maniaque, dont vous serez terrifié.
★ Le besoin de se cacher et de survivre.
★ Des puzzles uniques qui vous font beaucoup réfléchir et agir rapidement.
★ La possibilité de passer l'aventure en anglais et sans Internet.
★ Plus effrayant que les fantômes, les créatures, les démons, les virus, les zombies, les morts et même le diable lui-même.

Aimez-vous ressentir la peur des animaux? Aimez-vous quand il y a de la fantaisie et de la magie autour, des âmes mortes, des hurleurs, des fantômes? Aimez-vous les films d'horreur?
Avez-vous la chair de poule à cause de l'atmosphère tendue et terrifiante? Fatigué de l'école, de l'hôpital, de l'hôpital psychiatrique ou de l'hôpital? Aimez-vous vous échapper d'une prison, d'un donjon ou d'un labyrinthe?
Alors ce jeu d'horreur est parfait pour vous.

Le jeu n'est disponible pour l'instant qu'un niveau sur une heure.
-Support vr bientot !

- Un joueur solo
CONFIGURATION REQUISE
MINIMALE :
Système d'exploitation et processeur 64 bits nécessaires
Système d'exploitation : Windows 7 / 8 / 8.1 / 10, 64-bits
Processeur : Intel Core i5-3450 / AMD FX-6300 or higher
Mémoire vive : 4 GB de mémoire
Graphiques : NVIDIA Geforce GTX 1050 or similar
DirectX : Version 11
Espace disque : 1 GB d'espace disque disponible
Carte son : DirectX Compatible


Download
Download
EVIL SHIT 1 ALPHA game 1k.zip
954 MB